I see that I didn't beat Katy in putting in my own birthday wish.  Its is a major goal of mine to smell like a cinnamon roll.  But in reality it only attracts the my friends from Whitman Park.
My life started as an aftershock to Pearl Harbor… I guess my parents really wanted to pay tribute (never forget).  Out of the 50 revolutions around the sun I have spent most of them consecutively in Grand Junction, which I view as a huge blessing.  I love this Valley and I love all the wonderful people that have been a part of my life.
My biggest "epiphany" about getting older happened a couple nights ago while I while was on the way to listen to my Daughter Sing in concert at Central… I was thinking that as soon as my son got his licence (which he did yesterday)… it would be one more step from them not needing me.
I let that thought sink in for a moment and then thought about my own parents… even at 50 I still need them.  SO, my children and I will have a long history.
I could now consider this the golden years of my radio career…. I am thankful that I have a great partner in the show (Libby)… my children (Bubba, Panda, Mini Hippy and the Boy) and above all my Beautiful Wife Lil Hippy for making this the best version of me so far.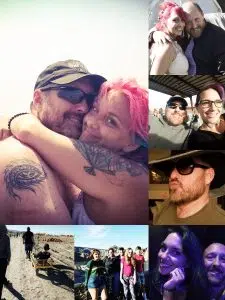 Patrick